Veterinarians
Dr. Wendy McGuire

Veterinarian
Dr. McGuire is the owner of Fischer Veterinary Clinic. She received her DVM from Texas A&M University in 2012 and came to join the Fischer Veterinary team in 2014. She loves veterinary medicine because it opens the opportunity to strengthen the human-animal bond between owners and their pets. Rescue work is also one of her passions; she loves being able to give animals a second chance. Her professional interests include dentistry and internal medicine cases. Dr. McGuire is married with a beautiful baby girl, Sawyer. Their 4-legged family includes several dogs, cats, goats, and a potbellied pig named Norman. She excels at business management and dentistry.
Dr. Melissa Beiseigel

Veterinarian
Dr. Beiseigel started work here in June 2019. She received her DVM from Texas A&M University in 2017 and did two internships before joining FVC, one of which was in veterinary anesthesia. She has wanted to be a veterinarian since she was 5 years old, but really fell in love with it in college. She loves helping pets live a long, happy life with their owners, and helping to educate owners about their pet's healthcare. She chose to work at FVC because of the amazing staff and great location near family. She has been married to her wonderful husband since 2018 and they have two dogs; a Blue Heeler mix named Tulip and a Redbone Coonhound named Chili. Outside of work, Dr. Beiseigel enjoys riding her bike, working on a crochet project, or learning to cook new things. Her professional interests include anesthesia, pain management, and animal behavior.
Dr. Word

Veterinarian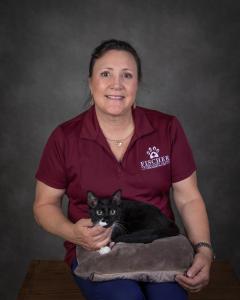 Staff
Danielle W.

Practice Manager
Danielle is our practice manager, and has helped our clinic run smoothly since 2016. She has worked in the veterinary industry for 26 years, and chose this path because she's always loved both animals and medicine. She decided on FVC because they took great care of her when she was a client. She has a diverse crew at home including dogs, cats, horses, and prairie dogs. Outside of work, Danielle loves spending time with her family and riding her horses. She excels at anything with numbers.
Kari

Technician
Kari is one of our technicians, and started working here in 2018. She felt a call toward the veterinary field, and enjoys it because of her love for animals. Kari enjoys puppy and kitten visits, but her real joy lies in caring for our geriatric patients. She loves helping them live their best life throughout. She chose FVC because they believed in her and helped her learn and move up. She has 4 dogs and 1 cat of her own; Sebastian and Baxter are Pitbulls, Maggie is a Chihuahua, Ernie is a Boxer, and Nova is her cat. Outside of work, she loves to hang out with her pets at home. She excels at adapting to any situation.
Heather

Licensed Veterinary Technician
Heather is one of our head technicians and has been at Fischer Veterinary Clinic since 2015. She chose the veterinary field because ever since she was little, she wanted to make a difference in animals' lives. She is a licensed veterinary technician (LVT) and loves helping with surgery. Originally, she joined FVC for an internship, and decided to stay after meeting the friendly staff. Outside of work, Heather enjoys kayaking, fishing, and hiking. She is excellent at placing IV catheters and drawing blood when our patients need a check-up.
Lindsey

Technician
Lindsey is one of our head technicians and has been with us since 2013. She chose veterinary medicine to help make a difference and impact the lives of animals and their owners. She loves having the opportunity to be a voice for animals, and she especially loves working with Chihuahuas (many refer to her as the 'Chihuahua whisperer'). Her crew of animals at home includes several dogs, cats, fish, rats, and a cow named Henry. Outside of work, she likes hanging out with Henry, going to the river, and exploring the outdoors. She excels at calming patients that may be scared or nervous, and paying attention to detail.
Risa

Operations Manager
Risa is our operations manager. She started here in 2009 as a kennel technician and has been here ever since! She chose the veterinary profession because she enjoys working with both animals and people, and this job gives her a good mix of both. She chose Fischer Veterinary Clinic because she enjoys a small, family-feel company. She has 2 dogs of her own; a Plott Hound/Ridgeback mix named Tex, and a Boykin Spaniel named Red. Outside of work she enjoys fishing, riding four-wheelers/RZR's, hanging out with family and friends, listening to live music, and traveling. She excels at being versatile; she is able to help in the reception area, kennels, or as a technician when needed.
Teresa

Receptionist
Teresa is one of our receptionists. She joined us in 2019 and is fairly new to the veterinary profession. She is passionate about caring for animals and providing great customer service to their owners. She chose FVC because she always enjoyed visiting us as a client, and thought it would be a great working environment. She has one dog of her own; a Black Labrador named Buttercup. Outside of work she enjoys hanging out with family and friends, traveling, and listening to music at different venues. She excels at customer service and organizational skills.