Veterinarians
Dr. Wendy McGuire

Veterinarian
Dr. McGuire is the owner of Fischer Veterinary Clinic. She received her DVM from Texas A&M University in 2012 and came to join the Fischer Veterinary team in 2014. She loves being able to help animals every day and is passionate about education and leadership. She also has a passion for rescue work and giving animals a second chance. Her professional interests include dentistry and dermatology. Dr. McGuire is married with a beautiful baby girl, Sawyer and the sweetest little boy named Landry. Their 4-legged family includes several dogs, cats, horses, and a potbellied pig named Norman.
Dr. Melissa Beiseigel

Veterinarian
Dr. Beiseigel started work here in June 2019. She received her DVM from Texas A&M University in 2017 and did two internships before joining FVC, one of which was in veterinary anesthesia. She has wanted to be a veterinarian since she was 5 years old, but really fell in love with it in college. She loves helping pets live a long, happy life with their owners, and helping to educate owners about their pet's healthcare. She chose to work at FVC because of the amazing staff and great location near family. She has been married to her wonderful husband since 2018 and they have two dogs; a Blue Heeler mix named Tulip and a Redbone Coonhound named Chili. Outside of work, Dr. Beiseigel enjoys riding her bike, working on a crochet project, or learning to cook new things. Her professional interests include anesthesia, pain management, and animal behavior.
Dr. Word

Veterinarian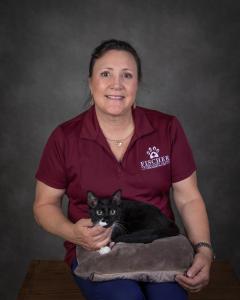 Dr. Taylor Strange

Veterinarian
Dr. Strange moved from Brownsville, Texas to join the Fischer Veterinary Team. She is a graduate of Texas A&M University in 2015 with a bachelor's degree in Biomedical Science. She continued her education at Texas A&M graduating from the College of Veterinary Medicine in 2019. Her favorite part of being a veterinarian is making relations with people and animals and watching them grow and change over time. Dr. Strange has two mixed breed dogs named Tyson and Opal. Her hobbies include long walks with her husband and dogs, traveling all around the world, exercising, playing board games and reading. She is a great doctor, full of passion and brings happiness to pets, clients and all of us at FVC.
Staff
Danielle W.

Bookkeeper
Danielle is our practice manager, and has helped our clinic run smoothly since 2016. She has worked in the veterinary industry for 26 years, and chose this path because she's always loved both animals and medicine. She decided on FVC because they took great care of her when she was a client. She has a diverse crew at home including dogs, cats, horses, and prairie dogs. Outside of work, Danielle loves spending time with her family and riding her horses. She excels at anything with numbers.
Shannon

Lead Technician
Shannon is a Licensed Veterinary Technician and holds the position of Lead Technician. She joined FVC in May of 2020 after a variety of positions within the veterinary profession over the last 25 years. She is passionate about patient care, client education, and staff training. She has two dogs and a cat that she adores. Outside of work she enjoys serving in her church, traveling, camping with family and friends and she is always up for exploring new hiking trails. Her compassion for our pet patients and strong desire for leading a team that puts standards of care as a priority, comes through as some of her biggest strengths.
Ashley

Technician
Ashley is a veterinary technician who has been with Fischer since early 2022. She has worked in the veterinary field for 11 years and in many specialties. She really enjoys assisting in surgery and teaching others. Her hobbies include reading, going to dance and pilates classes, and crafting. She and her fiance Jamal stay busy at home with 3 dogs and 3 cats who are the best boys and girls!
Brittany

Technician
Brittany has been at Fischer Vet Clinic for 2 years as a vet tech. She has always had a passion for helping animals and being their voice. She has a dog named Autumn, a turtle named Jake, and soon will be adopting senior dogs. She loves being outdoors and hiking with her fiance.
Kari

Technician
Kari is one of our technicians and started working here in 2018. She felt a call toward the veterinary field and does well because of her love for animals. Kari enjoys welcoming all clients and caring for every patient, but her absolute joy lies in caring for our geriatric patients. She chose FVC because they believed in her and helped her learn and move up. She has 4 dogs and 2 cats of her own; Baxter is a Pitbull mix, Maggie is a Chihuahua, Ernie is a Boxer, Kirby is a Goldendoodle, and Nova and Doug are her cats. Outside of work, she loves to hang out with her pets at home, travel, and hike. She excels at adapting to any situation and we are happy to have her!
Heather

Licensed Veterinary Technician/Operations Manager
Heather is a Licensed Veterinary Technician and holds the position of Operations Manager. She has been part of the team at Fischer Veterinary Clinic since 2015. She chose the veterinary field because ever since she was little, she wanted to make a difference in animals' lives. Originally, she joined FVC for an internship, and now is a part of helping all operations run smoothly at FVC. Outside of work, Heather enjoys kayaking, fishing, and hiking. She is excellent at placing IV catheters and drawing blood when our patients need a check-up.
Lindsey

Technician
Lindsey is one of our head technicians and has been with us since 2013. She chose veterinary medicine to help make a difference and impact the lives of animals and their owners. She loves having the opportunity to be a voice for animals, and she especially loves working with Chihuahuas (many refer to her as the 'Chihuahua whisperer'). Her crew of animals at home includes several dogs, cats, fish, rats, and a cow named Henry. Outside of work, she likes hanging out with Henry, going to the river, and exploring the outdoors. She excels at calming patients that may be scared or nervous, and paying attention to detail.
Sam

Technician
Sam started with us as a veterinary technician assistant in January of 2023, she has a Bachelor's in Animal Science and has been in the veterinary field since 2007. She has an extreme passion for animals and has made it her mission to speak for the animals and help them when they are in need. She hopes one day to pursue her goal of becoming a veterinarian but for now she is choosing to spend more time with her two children: Jameson and Amelia and keep doing what she loves. She also has 4 fur babies at home, 2 cats: Archer and Creeper and 2 dogs: Dewey and Gabby. She is happy to be a part of the Fischer family and to continue to be a voice for the animals.
Suzanna

Technician
Suzanna joined our team in October 2022 as a veterinary technician assistant moving to the area from Georgia. She is currently pursuing a Bachelor's Degree in Animal Science to become a DVM. Suzanna has a passion for spending time with clients making sure they have all the tools needed to best care for their pets. She will go the extra mile and jumps in wherever there is a need. In her spare time, her hobbies include: reading, writing, crocheting and designing t-shirts and clothing. She's a great organizer and a wonderful asset to the FVC team.
Callie

Technician
Callie joined FVC in November 2022 as a veterinary assistant. She has a heartfelt desire to not only raise animals but to also care for them medically, from injured or sick animals to abandoned animals, across the spectrum of domesticated, exotic and wildlife creatures. Callie chose FVC because she loves interacting with people and their furry friends and wants to do her part to make a difference in their lives. She enjoys the beach, renaissance festivals, crafting and hiking with her two Great Danes.
Phoenix

Technician
Phoenix joined FVC in November of 2021 as a veterinary technician assistant. He is compassionate about pets, and owners. He has 5 pets of his own, Ivana, Luna, Ben, Mozzie and Cheech (who loves to ride with him in his Jeep). His hobbies include hanging out with his pets, friends and gaming. He brings great customer service to FVC and loves staying busy providing excellent care to pets, clients and coworkers.
Maddy

Technician
Maddy joined the team in October 2022 and has been a veterinary technician assistant since 2018. She served in Germany for the United States Army as an animal care specialist. She is involved in local rescue and loves traveling, hiking and being outdoors. She has two dogs, Kimba, an Old English Bulldog and Belle, a Yorkie. We are excited to have Maddy as part of the FVC family!
Aysia

Technician
Aysia was born and raised in Seguin, TX. Aysia became involved within the veterinary field in 2015, traveling to animal shelters in multiple counties to aid as many small animals in need as possible. She is currently enrolled at Palo Alto College, in hopes to obtain the Veterinary Technology, A.A.S. degree and Veterinary Assistant Level 2 Certification. During her free time, she's with her furbaby Marley, her family, or her significant other. I appreciate being in the veterinary field because gaining that trust from a client's animal makes a client trust me even more and I love having that client patient relationship over a paycheck.
Caitlyn

Technician
Caitlyn has been at Fischer Vet Clinic since Nov 2022. Since she was a little girl, she has always had a passion to work and help animals. She pursued a certificate at Loyola Marymount University, for veterinary assistant. She likes working at Fischer because it's like her second family. Caitlyn has a dog named Teddy who is her best friend. She loves being with family and friends in her free time.
Courtney

Technician
Courtney joined FVC in May 2022. She is passionate about the conservation of wildlife and animal behavior. She loves to do anything out doors and anything that involves a competition. She played soccer at her university and majored in biology and chemistry. She has 1 horse, 1 cat, and 2 dogs (so far). She likes working at Fischer because of the staff's energy and exciting new cases that come in every day that challenge her to do her best.
Phylicia

Lead Receptionist
Our lead receptionist, Phylicia, has been in the veterinary industry for six years. Before Fischer Veterinary Clinic, she began her career at another clinic as a kennel technician. After a short period of time, she was promoted to hospital assistant, then to veterinary technician. Her journey at FVC began as a technician and now she serves as our lead customer service representative. Phylica's favorite part of the job is creating a positive experience for clients and their pets. She enjoys being able to address customers' needs and is passionate about customer satisfaction and works to promote that every day. She enjoys working with animals as she has four of her own, three dogs and one cat. She has two boys and enjoys spending time with her family outside of work.
Alixandra

Receptionist
Alixandra lives in New Braunfels and is a graduate of Texas State University. She joined our reception team in June of 2022 and being helpful to others is her main occupational goal. Alixandra also serves as Fischer Veterinary Clinic's social media coordinator and does a great job engaging with clients and staff. In her spare time, she enjoys cuddling with her cat, Rosemary, while reading or watching her favorite comfort show, Gilmore Girls. She is a major cat lover, especially with the FVC cat, Bertie. She is a great asset to the clinic and loves advocating for all pets and their owners.
Rhianna

Receptionist
Rhianna started at FVC April 2022, and is a receptionist. She enjoys interacting with clients and seeing all the animals that come and go through the clinic. Her hobbies include going to K-pop concerts, being around friends, and just living life to the fullest. She has 4 animals: 2 cats - Tiger and Millie, and 2 dogs - Nanook and Groot. Rhianna is a great asset to the team and really enjoys being helpful to others.
Katie

Receptionist
Katie joined our team in April of 2022 and is one of our receptionists. She is very passionate about connecting with clients, and giving their fur babies the best care, we can. She has two cats, a German Shepard named Zeus, a Lab named Cleo, and 8 chickens. In her free time, she enjoys hiking with her fiancé, reading, and visiting local wineries in the area.
Jan

Receptionist
As a life long learner, Jan has taught high school English for thirty years, and now pursues new knowledge in the business world focusing on animal well-ness since June of 2021. She has a BBA in management marketing. Her love of animals makes this a smooth transition from human students to fur babies. Organizing and completing tasks are strengths that benefit Fischer Veterinary Clinic. She loves working for a clinic that is filled with compassionate technicians, doctors and support staff and were the pets and owners are considered priority.
Teresa

Practice Manager
Teresa is our practice manager, and has been a part of the FVC family since 2019, when she joined the veterinary industry. She chose this path because she is passionate about caring for animals and providing great customer service to their owners. She has two dogs of her own; a Black Labrador named Buttercup and Captain Jack Springer, an English Springer Spaniel. Outside of work she enjoys spending time with her family, traveling, and listening to music at different venues. She excels at customer service and organizational skills.